About the Founder And Director
Swara kalaratna Shaik Chand Pasha
Mr. Shaik Chand Pasha is an reputed multi talented musician who plays 10 Instruments western & Indian Classic as a Music Director composed for Swapna sundari, Asalem jarigindante feature films.
As a hero
He Composed and Acted as a Hero for Swapna sundari & Asalem jarigindante Directed By ES Venkat. As a Musician he promoted and trained 5000 students through his Music and film academy.
He was honoured "SWARAKALRATNA" by Lalith Kala Sudha Org.
Western masters
He was trained by Jc marthand & thimoty Marthand and benjmen Marthanad, Jhon Shamuel & Charitha Ben in piano, voilin, Keyboard, guiter, Wester vocal, Key Flute and theory of Music & Orchestration.
Carnatik and Hindustani Music Masters
He also tarined Carntik and Hindushthani Music from Dr. Nukala Chinna Satya Narayana, V bhaskar Rao, Dwaram Satya naryana, manda balaram Sharma, T. Gopala swamy, thinaty Naraya vamshi Murali mohan, vittal Rao(Hindustani) from AIR Hyderabad. Film music from Rizwan Bombay.

Audio Engineering
He also trained Computerised Music programming & audio Engineering at Chennai ravi Kumar.
He was Awarded Grade-8 Practical & Theory from trinity College of Music London.
As a Music player he got opportunity to work with in Tv Media and Films Music Directors Mani Sharma, Keeravani, Chakri, Vande mataram Srinivas, classical, Fussion and orchestration.

Awards
The largest group singing (choir) consisted of 100,000 participants including Shaik.Chand Pasha and was achieved by SiliconAndhra during 60 lst Annamachary Jayanthi Utsavam Laksha Gala sankeerthanarchana at the Secunderabad Parade Grounds in Secunderabadn Andhra Pradesh, India on 10 May 2009
Trinty College london :Shaik Chandpasha student at musee school of Music is awarded "TRINITY GUILDHALL" Foundation Level Graded Examination in Music performance. GRADE2(DRUM KIT) , GRADE8(Theory Of Music) , GRADE5(Electronic Keyboard), GRADE8(Voilin), Initial Singing With merit and GRADE5(Guitar)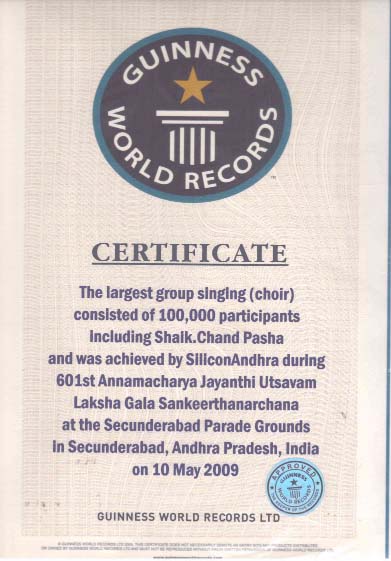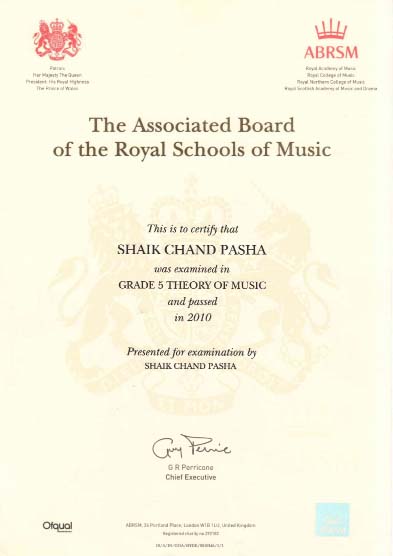 We also Follow Syllabus from These Universiites